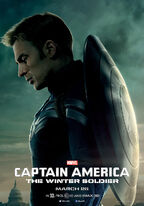 Plotline:
Edit
Captain America faces off against his old foe, the organization HYDRA, battling former comrades in arms including his oldest friend Bucky Barnes, now returning as the deadly Winter Soldier.
Gerber Mark II
Edit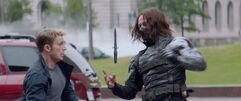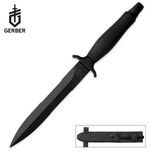 During one of their physical altercations, after Cap looses his shield and Winter Soldier does away with his firearms, they opt to go hand-to-knife as Winter Soldier exemplifies his skill with a fixed blade. Confirmed as the double edged partially serrated Gerber Mark II.
CRKT Ultima
Edit
During the opening scene Captain America is on a mission to save S.H.I.E.L.D. agents on a boat. during one of the fight scenes a man with a the knife gets disarmed and Cap takes the knife away, then Captain America throws the knife into the hand of a man attempting to pull a fire alarm.