---Warning May Contain Graphic Images or Spoilers---
A Perfect Getaway is a movie about two pairs of lovers on a Hawaiian vacation who discover that psychopaths are stalking and murdering tourists on the islands.
The following Knives appear in the movie A Perfect Getaway
Folding Knives
Edit
Cydney (Milla Jovovich) carries a Stiletto Switchblade. Until it is taken by Gina (Kiele Sanchez) after she is attacked.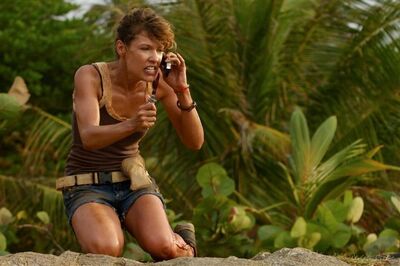 Fixed Blades
Edit
Gina (Kiele Sanchez)uses a United Cutlery Trailblazer Knife to gut a goat after Nick (Timothy Olyphant) comes back from hunting. This knife is part of a combo and fits in the handle of an axe
Nick (Timothy Olyphant) keeps a plain edged version of a United Cutlery Sentry Knife strapped to his ankle. In the movie he claims that he is able to get thisthrough airport security because of a metal plate in his head, this seems highly unlikely to work in reality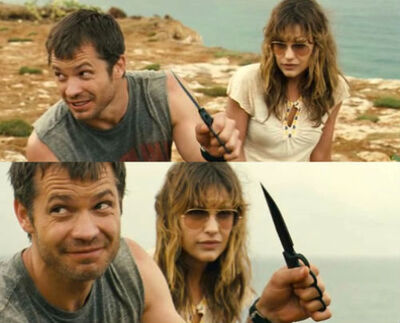 Gina (Kiele Sanchez) also carries a United Cutlery Trailblazer Axe
Nick (Timothy Olyphant) carries a takedown Recurve Bow, which he uses to hunt a goat.